Yay!!!! It's Fall which means it is time for the Fall Swap unveiling!!!!!!!
Unfortunately my post office doesn't believe in delivering packages in a time manner so mine will be up later this week which is ok as this link up runs through Friday!!!!!!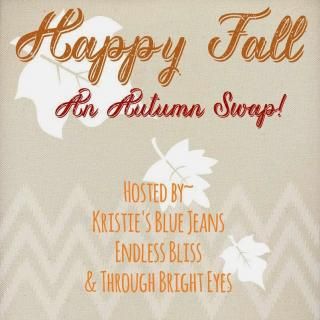 Yay I got my box from the lovely
Miss Ellie
yesterday afternoon.
Ellie and are best blog friends forever and most likely twin souls separated by a few years and a country, but that doesn't really affect us at all. Truth be told I was excited when I got her for the swap and no I didn't plan on having her as my partner ;)
She knows my love for owls and beverages, of all varieties!
This cup is making it's home at my work desk.
This smell is AMAZING!
It's true! Halloween requires popcorn balls. I used to make these with my aunt as a kid and now I can pass this tradition on to my niece and nephew.
You bet your sweet bottom I will be creating this and wearing it. Perhaps it will become my wine crown.
And of course candy because it is amazing!!!!