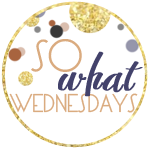 and
Today I am linked up with Shannon and Shanna. So much fun to find all of these links!
Here are my "random" SO WHATs of the week:

1. So what if I consider beer to be a well balanced dinner!
2. So what if I DVR Jeopardy!
3. So what if I am planning a trip to a stark winter place in winter!
4. So what if I don't want kids or a dog.. I can barely take care of myself (see #1).
5. So what if I use my breaks to look up stupid gif images that only make me laugh.
Happy bad attitude Wednesday!

In other news, I posted previously about purchasing a pretty dark olive green nail polish. I decided to give it a go last night, and to my surprise it was part of Maybelline's "Vintage Leather" collection. My decision on whether or not I like it is still out. I will say it drives VERY fast, and I kinda dig the matte finish. However, to keep the matte finish, you cannot apply a top coat. Has anyone else tried it? if so, please share your thoughts!